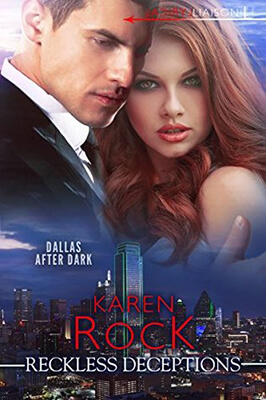 Reckless Deceptions
Karen Rock
(Dallas After Dark)
Publication date: December 18th 2018
Genres: Adult, Romance, Suspense
DESIRE WITH NO LIMITS

Erica Keeley has always been willing to break the rules to catch a criminal, until her unorthodox tactics get her booted from the CIA and betrayed by the man she trusted. Now, gone rogue to stop a terrorist group, she's working undercover at Dallas's top male strip and burlesque club, dancing alongside sexy, sculpted men. Not that any of her co-workers give her the adrenaline rush she got from her former life. Erica hits the jackpot when she overhears her targets discussing a homegrown terrorist plot. But her last shot at redemption means getting up close and personal with her traitorous ex.

Control is what CIA officer David Arnell values above all things. Yet he was irresistibly drawn to Erica's impulsive, uninhibited nature in the field—and in bed—until her bull-headed tactics risked the agency's mission. Teaming up to stop a deadly attack, he's falling again for this spontaneous, high-octane woman. And with Erica's ties to the terrorists proving closer than either of them expected, the riskiest mission of all might be this second chance at love . . .

"A highly entertaining and cohesive suspense novel with an emotionally satisfying romance that will keep readers glued to the page." —RT Book Reviews, 4 Stars onDangerous Moves
Goodreads / Amazon / Barnes & Noble / iBooks / Kobo
Interview with Karen Rock
What would you say is a typical day in the life of Karen Rock?
KR: A typical day begins with feeding my cat Yin since the world shuts down until her bowl if full- lol. Then I feed and walk my dogs Zoey and Leia. After the animals are set (it's their world- I just live in it…) I eat my breakfast while watching something I taped from the night before (something like Outlander- I'm a huge fan). Next up is writing which goes from eight a.m. until around 4 p.m. unless I'm teaching at the college (I teach writing) in which case I'm in a classroom from 10 a.m.- 1 p.m. At night, I love to cook for my family and then, if I have time, workout and get caught up on social media.
Who or what would you say has influenced your writing style the most?
KR: My writing style is most influenced by Diana Gabaldon. Her heroes and heroines are never too perfect nor are her loves scenes which makes them so much more authentic and moving to her readers. Reading her books taught me to always write from a place of truth and passion, tapping into real emotions rather than cliched love scenes.
What are your favorite past times?
KR: I love animals, so walking my dogs, playing with my cat and even watching the birds on my feeder make me so happy. Cooking my grandmother's Italian family recipes also brings me joy because I remember the special times we shared in her kitchen. One whiff of basil and I'm rolling dough to make homemade pasta with her while she's telling me something in a mix of Italian-American, her hands just as expressive as her words.
What types of scenes do you find the most difficult to write and why? 
KT: The hardest scenes are love scenes because I put a lot of pressure on myself to make them authentic and touching and unique to each story and that specific couple. However, they are the scenes I love the most once I've finished pulling out my hair to get them just right- lol.
Can you tell us more about your upcoming release Reckless Deceptions?
KT: Reckless Deceptions is an action-packed, sexy, thrill-ride of a romance between a rogue ex-CIA agent, Erica Keely, who's determined to prove herself by taking down the terrorist organization she'd nearly stopped prior to being fired for her impulsive, take-no-prisoners approach and her former lover and boss, Ryan Arnell, a by-the-books CIA counter-terrorist expert whose duty to report her for breaking rules led to the end of their red-hot affair as well as her career. When Erica uncovers a terrorist threat while working as a bartender and silks performer, her cover while she's been pursuing her long-time terrorist foes, she and Ryan must reunite to stop a twisted and deadly massive terrorist plot. Sparks fly while both work hard to ignore their returning feelings as their mission grows more and more treacherous with shocking discoveries and nail-biting escapades, chases and shoot-outs. Yet to thwart this threat to national security, they must learn to trust each other again… and maybe even fall in love along the way if they're willing to risk their hearts as easily as they risk their lives.
What do you think readers will like most about the book?
KR: If they love suspense shows like Criminal Minds, Homeland or Quantico and romances set in that kind of edge-of-your seat, high-stakes world, they'll love Reckless Deceptions. It's got romance, non-stop action, lots of twists and turns, danger and plenty of heat in this second chance romance. Ryan and Erica have a second chance to take down the terrorist group they just missed stopping from U.S. Embassy bombing and another chance at a relationship neither's been able to forget.
You mentioned in your bio that you love to cook your Nona's Italian recipes. What Italian dish would be your main characters favorite?
KR: Since Erica's very passionate, I would  say chicken parmigiana would be her favorite since it's got bold flavors, red sauce and it's served over linguini. She and Ryan could create that Lady and the Tramp moment!
Where do you see this series going?
KR: In my research, primarily for DEADLY GAMES (Dallas After Dark, Book 2), I had the opportunity to speak to Dallas' FBI unit. I'd love to create a series based on the different units and experts there- so I'm interested in books that would focus on specific cases and the agents intent on solving them like a child abduction case, a bomber terrorizing the city, a human-trafficking ring… things like that.
What question do you wish someone would ask about you or your book? (then answer it 😉 )
KR: Have you ever gone to a male strip club when not researching?
KR's answer: Not only did I used to go to them (they had great drink specials- what can I say? Lol) I also began dating one of the dancers. What surprised me about him was that despite his super-hot, anything-goes persona on stage, he was actually very traditional and deeply romantic, always insisting on paying for every date, bringing me flowers, wanting to be exclusive. He made it clear he only had eyes for me, but it was hard to go to his shows and see women pawing at him and watch him perform for them. No matter what he said or how hard he tried to make me feel secure, my confidence and faith in us took a hit and ultimately, I broke up with him. It was sad, and we both cried. I hope that he found a woman who could accept his job because he was such a good man and Nash, the male stripper hero in DEADLY GAMES is modeled after him.
GIVEAWAY!
a Rafflecopter giveaway